Accreditation and Certification
PKL holds a wide variety of national and internationally recognised accreditation and certification, including ISO 9001, ISO 14001, ISO 45001, SAFEContractor, Constructionline, CHAS, F-Gas and Gas Safe certification to ensure that any work that we undertake for you on site is done so to the highest level of quality and safety standards.
Integrated Management System
PKL achieved certification to the new 2015 versions of ISO 9001 and ISO 14001 in 2017 whilst at the same time taking the opportunity to implement a fully integrated management system across all three disciplines including ISO 45001 : 2018 (replacing OHSAS 18001: 2007). PKL achieved certification to ISO 45001:2018 in February 2019.
ISO 9001
ISO 9001 is an internationally recognised symbol for quality management. To achieve certification we have illustrated the ability to achieve customer satisfaction through consistent products and services, which meet their expectations.
Our certification illustrates our effective quality management system and ensures our commitment to quality.
ISO 14001
PKL has management processes and certification to ISO 14001 the international standard for best practice in environmental management. PKL has established, implemented and operates a continually improving integrated management system (IMS). Our IMS is a framework, which allows us as an organisation to consistently control significant impacts on the environment, reduces the risk of a potentially costly pollution incident, ensures compliance with environmental legislation and continually improves business operations and practice.
The certification and continual improvement of our IMS illustrates PKL's attitude towards continually improving the company's product and service offering and our ongoing commitment to the environment.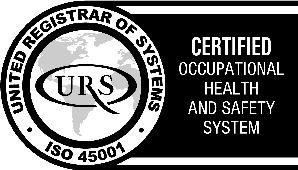 ISO 45001 (replacing 

OHSAS 18001)
The new standard requires companies to work to a framework, that will help to improve employee safety, reduce workplace risks and create better and safer working conditions, all over the world. The standard was developed by a committee of occupational health and safety experts. It is designed to be integrated into a company's existing management processes and follows other high-level structure ISO management system standards, such as ISO 9001 (quality management) and ISO 14001 (environmental management).
Other Health and Safety Accreditation
As well as our ISO certification, PKL also holds the following nationally recognised health and safety certificates.
CHAS
PKL has been a CHAS registered since 2008, ensuring that we achieve or exceed the minimum levels set in UK health and safety law.
CHAS represents the Contractors Health and Safety Assessment Scheme and to gain registration PKL was assessed on our health and safety management and compliance.
This was determined by providing answers to a large number of health and safety questions and supplying evidence of our policy, organisation and arrangements for health and safety.
SAFEContractor
PKL Group has successfully received accreditation from SAFEcontractor, a programme that recognises very high standards of health and safety practice amongst UK contractors. Under the SAFEcontractor system, businesses undergo a vetting process that examines health and safety procedures and their track record for safe practice.
Those companies meeting the high standard are included on a database, which is accessible to registered users only via a website, www.safecontractor.com Employer-organisations who sign up to the scheme can access the database, which enables them to vet potential contractors before they even set foot on site. These employers agree that, as users of the scheme, they will engage only those who have received accreditation.
Constructionline
PKL is a Constructionline registered company. Contructionline aims to help its members simplify procurement tasks, reduce risk, keep pace with legislation and achieve much more. Constructionline conduct verification checks for all the suppliers on their platform, so procurement teams can be sure that they are working with approved and accredited partners.
Gas Safe
PKL Group is enrolled on the Gas Safe Register of gas engineers and is therefore deemed a member of a Class of Person approved by the relevant health and safety enforcement agency, in accordance with current gas safety legislation in force.
F-Gas
PKL is an F Gas certified company, which is a requirement for any organisation involved in the installation, maintenance or servicing of stationary refrigeration and air-conditioning (SRAC) and/or heat pump equipment containing or designed to contain F gas refrigerants.
CSCS Certification
All of our appropriate site and operational staff hold CSCS cards. CSCS is the leading skills certification scheme within the UK construction industry and CSCS cards provide proof that individuals working on construction sites have the required training and qualifications for the type of work they carry out.
Our health and safety accreditation ensures peace of mind to our customers, while illustrating our continued commitment to creating a safe working environment when installing portable kitchens and catering equipment.
Frameworks
We are pre-tendered on a number of different frameworks covering both the hire and sale of temporary and permanent modular kitchens and the hire of catering equipment. This is particularly relevant for public sector customers who wish to use our services. If you would like to know more about how the frameworks below work and how you can use them to procure kitchen infrastructure products for your organisation, please get in contact.
NHS SBS Modular Buildings Framework
PKL has been awarded a place on the NHS SBS  Modular Buildings Framework which covers the sale of permanent modular kitchens, the rental of permanent and temporary modular kitchens and the contract hire of catering equipment to public sector clients. PKL was awarded a place on the framework following a competitive OJEU process where we have proved that we have the necessary insurance, policies and procedures in place to meet all statutory requirements including the applicable building regulations.
The lots that PKL has been listed on are as follows:
– Lot 9 – Modular Kitchens for Purchase
– Lot 10 – Modular Kitchens & Temporary Catering Equipment for Hire
– Lot 11 – Rental of Permanent Catering Equipment – Managed Service
The Framework can be used by all public sector organisations. More information can be found at www.sbs.nhs.uk/home.
ESPO / PRO 5
PKL Group is an Eastern Shires Purchasing Organisation registered company for the supply of temporary kitchens and catering equipment for hire. ESPO is a joint Committee of Local Authorities and operates within the Local Government (Goods & Services) Act 1970, acting as a purchasing agency for its member authorities and other customers and providing a professional and cost effective supply service.
The use of products and services by ESPO member authorities and other customers, as measured by the value of their combined procurement activities, amounts to some £600 million pa and the procurement services.
To find out more about procuring temporary kitchens and catering equipment for hire through ESPO, please click on the following link: www.espo.org.
Awards
FSA Awards 2019 – Winner Best Supplier Award
We were honoured to receive the "Best Supplier Award"at the Festival Supplier Awards 2019. PKL won the award in recognition of our supply of temporary kitchens and catering equipment for hire to festivals and outdoor events throughout the UK.
FSA Awards 2018 – Shortlisted in 2 Categories
PKL was shortlisted in the Best Supplier and Best Backstage / VIP Supplier  at the 2018 Festival Supplier Awards. This was in recognition of our work supplying temporary kitchens and catering equipment to a large number of UK festivals, in particular for crew, artists, staff/volunteer workers and VIP catering areas.
NOEA Awards 2017 – Supplier of the Year Shortlisting
PKL was shortlisted in the Supplier of the Year  in the NOEA Awards, recognising our achievements in supplying temporary catering equipment and kitchens to a huge amount of outdoor events and festivals throughout 2017.
Sunday Times SME Export Track 100 2017
PKL was placed 20th in the Sunday Times Lloyds SME Export Track 100 list, in recognition of a significant increase in our overseas trade. The list outlines the 100 UK small and medium sized enterprises with the fastest growing international sales.  Read more here.
FSA Awards 2017  – Silver Award for Best Festival Support Service
PKL has won the Silver Award in the Best Festival Support Service category at the FSA (Festival Supplier Awards) 2017. The Festival Supplier Awards were launched to recognise the achievements and hard work of outdoor event suppliers. Read more about our night at the Awards by clicking here.
NOEA Awards 2016 (Shortlisting for Event Supplier of the Year)
PKL has been shortlisted in the Event Supplier of the Year award category 2016 in the NOEA awards, for our work supplying temporary catering facilities to a number of outdoor events over the last 12 months. The NOEA is the UK's leading outdoor events trade association and will be announcing the winners at their annual Convention and Awards Dinner. See more about this in our news section by clicking here.
UKTI Brit Supplier Club 2016
PKL was given a special recognition award by the UKTI, for our work supplying temporary kitchens and dining facilities in Rio. We were invited to the British House in Rio de Janeiro during the summer of 2016 to pick up the award, which was hosted to celebrate a number of British Companies working in Brazil.
Cafe Life Awards 2016 (Shortlisting for New Product of the Year)
U-Select was shortlisted in the New Product of the Year category in the Cafe Life Awards, run by the Cafe Society, the prestigious national organisation for cafe owners and operators. The award encourages the development of new products and judges will be looking particularly for products that have real innovation value for the café/coffee bar market.
The shortlisting was even more impressive as the category normally only includes physical products, not business services. U-Select was shortlisted because it offers an innovative range of ways for business to procure new catering equipment, particularly for those organisations who do not wish to spend large amounts of capital up front.
Festival Supplier Awards 2016 (Shortlisting for Best Festival Support Service)
PKL was shortlisted for the Best Festival Support Service category in the Festival Supplier Awards 2016. Our shortlisting was based on the work that we undertook at the Wilderness Festival in 2015.
LACA Winner Nan Berger Memorial Award 2012
PKL and BAM FM worked together to create a solution to address a number of real-life problems in school catering. The resulting Food Cube is a high quality, bespoke product, designed and manufactured by PKL in response to requirements established through collaboration with BAM FM. The Food Cube is an innovative new, flexible concept, designed for year-round use and with the option of bespoke, brandable finishes. As a sturdy modular building, the Food Cube can be used as an additional servery area and as a tuck shop, and can be located anywhere in the school grounds, helping to ease lunchtime congestion. The Food Cube has been proven to increase school food sales by over 20%, keep pupils on site during break and lunchtimes, and raise the profile of the school catering service.
Lee Vines, Sales and Marketing Director, said, "We are honoured to have received this award, as it recognises all the hard work which has gone in to developing the Food Cube. It's fantastic that the Food Cube has been such a success, and we are now supplying Food Cubes to schools across the country."
Foodservice Footprint Award 2012 Winner
PKL won the Best Sustainable Foodservice Installation Award at the 2012 Foodservice Footprint Awards, for our work developing our eKitchen range, with improvements being used to upgrade kitchens in our existing hire fleet. These energy efficient kitchens include a number of energy saving features to help reduce their environmental impact and save customers on their energy costs.
These improvements include the latest technology LED lights, additional insulation to the roof and floor, double-glazed serving hatches, thermostatically controlled space heaters, stop and go taps for wash hand basins, and energy saving tips provided with all equipment. All kitchens that have undergone these improvements now have an energy performance rating of B42.
Educatering Award for Excellence 2011 Winner
PKL Group and Flourish (Northamptonshire County Council) have won a joint Innovation Award at the 2011 Educatering Excellence Awards.
Flourish approached PKL for a solution to part of the county's school kitchen problem – the 225 schools involved in the project all had inadequate kitchen space, and in many cases, no kitchen facilities at all. Together, PKL and Flourish developed a range of specially designed modular kitchens, providing the schools with instant hot cook kitchen facilities in a permanent kitchen building. The product was based on PKL's KitchenPods, a recent innovation in both the education and care home sector, which were then developed to suit the needs of the schools in Northamptonshire. By the end of 2011, over 100 PKL KitchenPods will have been delivered and installed across the county.
Lee Vines, Sales and Marketing Director, collected the Innovation Award and said "We pride ourselves on our innovative approach and can-do attitude, so we are delighted to have received this award for our work with Flourish on the school KitchenPods".
Queen's Award for Enterprise International Trade 2009
PKL is delighted to have received a Queen's Award for Enterprise in the category for International Trade, for work supplying catering and healthcare products to worldwide markets.
The Queen's Awards are the UK's most prestigious awards for business performance and recognise and reward outstanding achievement by UK companies. The Awards are made each year by the Queen, on the advice of the Prime Minister who is assisted by an Advisory Committee that includes representatives of Government, industry and commerce, and the trade unions.
This award represents a significant achievement for PKL and the company is proud to receive such a prestigious honour.
Gloucestershire Business Awards 2009: Winner Innovation Award
PKL Group won the Business Innovation award and was named runner up in the overall Business of the Year Category at the Gloucestershire Business Awards 2009.
The event, which showcased the best in Gloucestershire businesses, was held at Cheltenham Racecourse and was attended by nearly 650 people. Over 300 companies throughout the county entered.
PKL Group won the award for Business Innovation, gaining recognition for a number of products including the KitchenPod and KitchenFM as well as delivering innovative solutions at large scale events, such as the Athletes Village dining and media catering facilities at the Olympic Games in Beijing.
Judges were particularly impressed with the innovative culture that runs through the company and the attitude of management to develop and encourage innovation from staff throughout the company.
PFM Award Winners 2006/2005
PKL won 3 PFM awards, including the overall award in 2006. In 2005 we won the Award for Business Innovation for JACK – our Joint Approach to Commercial Catering. JACK is a simple touch-screen interface which, when sited in a kitchen, can provide constant communication between the customer, kitchen staff and the PKL technical support team.
In 2006 PKL won the Partners in Sports Facilities Management and the overall award for our work supplying the complete temporary catering facilities for the Athletes Village at the Commonwealth Games in Melbourne.
The project amounted to the installation of over 1,500 items of commercial catering equipment, all of which were maintained by PKL for the duration of the event.
Associations
We are active members of a number of industry associations. These include:
Modular and Portable Buildings Association (MPBA)

PKL is an active member of the MPBA.  Founded in 1938, MPBA play a key role in connecting all sectors of the modular and portable building industry together and is the single recognised voice for promoting and marketing all members and associate members high-quality products and services. PKL regularly attends MPBA meetings and events throughout the year.
Foodservice Consultants Society International (FCSI)

Members of our staff are members of the FCSI. The FCSI is a leading  organisation offering design and management consulting services, specialized in the foodservice and hospitality industry, across the world.
AGES Association of Global Event Suppliers
PKL is a member of AGES, the Association of Global Event Suppliers. AGES was set up in 2014 to act as a label for quality and reliability in temporary infrastructure provision for major events.